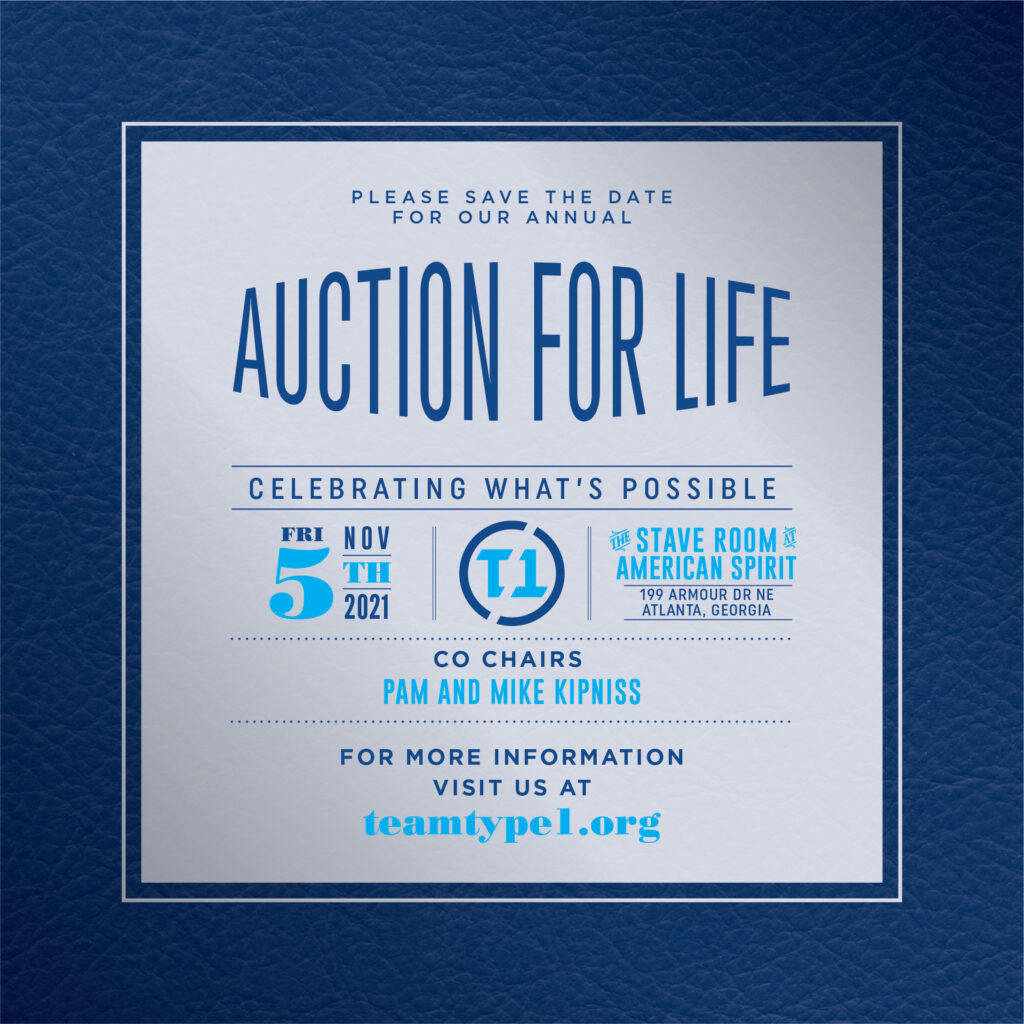 Please save the date for our annual auction for life
Celebrating What's Possible
Friday November 5th, 2021
Watch Auction Here
Who is Team Type 1?
TT1 was established to deliver hope and inspiration to the 1.2 billion people around the world affected by diabetes.
Comprised of more than 170 world-class athletes all living with diabetes, Team Type 1 is the largest diabetes and sports organization in the world.
Our mission is to show the world that with proper health, exercise and equal access to medicine, anyone with diabetes can achieve their dreams.As the world's largest diabetes and sports organization we strive to dispel the stigma that people with diabetes can't.
WE CAN! WE DO!
Global Ambassador Scholarship Program
Team Type 1 funds 100 college scholarships annually of up to $10,000 to help young, talented athletes with Type 1 Diabetes off-set the cost of diabetes care so they can focus on what matters…their health and their college education.
Awards recognize athletes who demonstrate an ability to balance both academic and sporting commitments, promote healthy living with successful diabetes management through exercise, and who serve as inspirational role models in the T1D community.
Virtual Event:
TBD
Partnership Opportunities:
Team Type 1 needs community philanthropists to continue providing support to people thriving with T1 Diabetes. We can create a custom partnership, or you can make a donation and help the Team Type 1 Foundation in its mission.
WE PROVE WHAT'S POSSIBLE.
For more information, contact Nora McCulloch at nora.mcculloch@teamtype1.org or 770-359-8248.
How to become a 2021 Auction for Life SPONSOR
EVENT SPONSOR | $2,500

Sponsorship Benefit:

Marketing on all event materials
Ad run through live event
Access to event digital gift bag

Bailey Ritter
SMU Rowing '22

"Being an Ambassador to me means inspiring other people with type 1 to chase their dreams. Nothing – not even diabetes – can keep us from achieving our goals!"
PREMIER SPONSOR | $5,000

Sponsorship Benefit:

Wine service at your home on the night of the event
Marketing on all event materials
Promotion on all social media channels
Ad run through live event
Access to event digital gift bag

Peninah Benjamin
Global Ambassador Alumni

"From the day I was diagnosed, I was supported by family, friends, and doctors who told me I could do anything – just with a few extra juice boxes and finger pricks. Team Type 1 has given me the platform to reach a greater audience with the message that people living with Type 1 can accomplish anything".
PRESENTING SPONSOR | $10,000

Sponsorship Benefit:

Catered dinner for 10 on the night of the event
Direct recognition during live event
Marketing on all event materials
Promotion on all social media channels
Access to event digital gift bag

Heather Kipniss
University of Tampa Golf

"As a Team Type 1 Ambassador I have a broader platform to help others with the same struggles that I have faced living with type 1 diabetes. As an Ambassador means that I have a community of some of the strongest human beings this world has to offer. Team Type 1 allows us to showcase our achievements and inspire the world with what's possible."
ELITE SPONSOR | $25,000

Sponsorship Benefits:

Scholarship named in your honor for the 2021-2022 school year
Dedicated ad space on the Team Type 1 website for a year
Catered dinner for 20 on the night of the event
Direct recognition during live event
Marketing on all event materials
Promotion on all social media channels
Access to event digital gift bag

Jessica Matteson
UCF Rowing

"Being an Ambassador means inspiring those with and without diabetes, never giving up in all aspects of life to win the American Conference 4 months after being diagnosed with T1D and placing 15th at NCAA Championships."
TITLE SPONSOR | $50,000

Sponsorship Benefits

Title sponsor for the 2020, 15th Annual Auction for Life includes prime ad placement on all marketing materials for the event and your personal ad to run during the event
Scholarship named in your honor for the 2021-2022 school year
Dedicated ad space on the Team Type 1 website for a year
Catered dinner for 20 on the night of the event
Direct recognition during live event
Marketing on all event materials
Promotion on all social media channels
Access to event digital gift bag

Austin Coldsnow
Malone University Soccer

"Being a Team Type 1 Ambassador has given me a platform to share my type 1 story and raise awareness that diabetics can do anything"